WriteMyEssay4Me.org Review
Overall rating: star star star star_half star_border (6.8 / 10)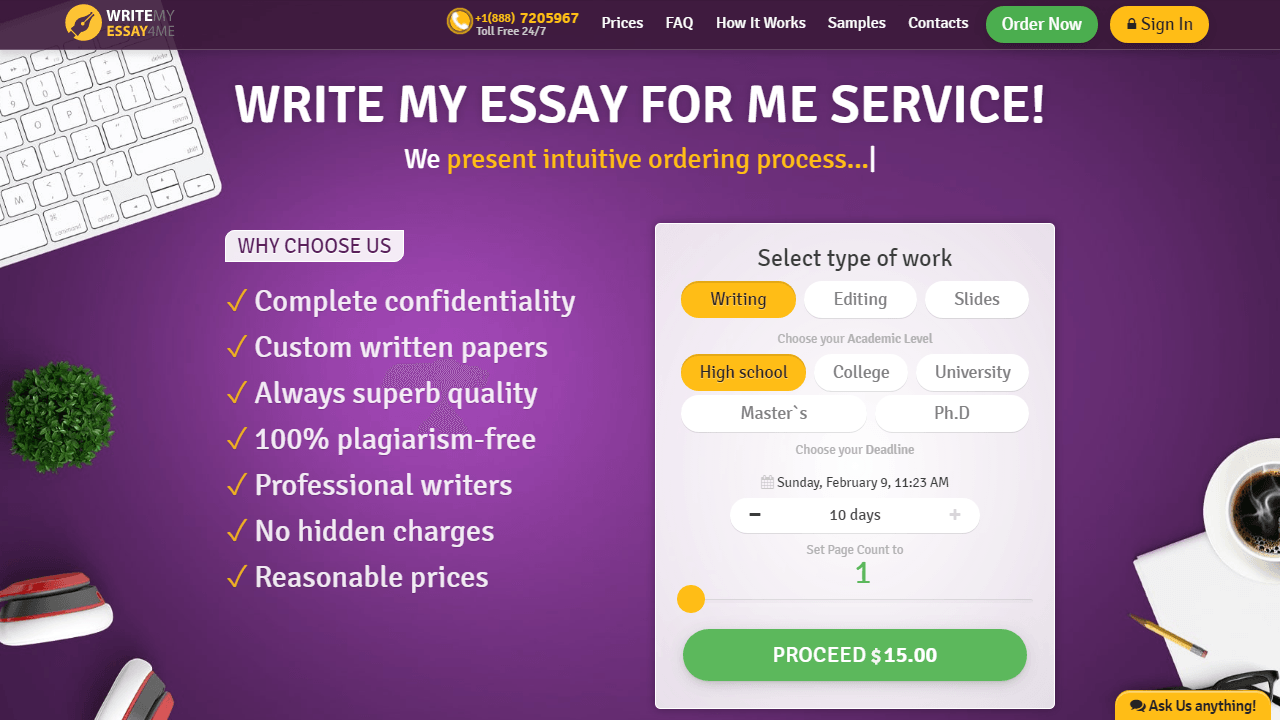 Minimum Deadline (hours):
3
Service Features
Paper Type
check Essay
check Research Paper
check Dissertation
check Article Writing/Review
check Book Review/Report
clear Discussion Board Post
clear Business Report
Customer Support
check 24/7
check Toll-Free
check Online Chat
check English Support
clear Call Back
check E-mail
clear Skype
Free Items
check Title page
check Paper outline
check Bibliography
check Styling and formatting
check Written samples
clear Plagiarism report
check Revision
General Overview
With more and more new online writing services emerging, we constantly receive requests to analyze their websites and check the quality of their work. This time, we focused on one of such services and showed it from the perspective of users. In this article, you will find the WriteMyEssay4Me.org review with a detailed analysis of the quality of their work.
WriteMyEssay4Me.org is a company registered in Orlando, Florida, which is relatively new in the sphere of academic writing. The website's design is rather welcoming, made in orange and purple colors. However, the menu is somewhat scattered around the homepage, and the appearing messages are distracting to a certain degree. The main page looks as if it is begging the visitors to choose their services: it contains the list of advantages of the company, the guarantees they provide and the students' testimonials. As for the latter, there are only three of them, which seems to be a poor number of feedbacks for a company that claims to have done more than 50 000 papers. All in all, without the critical perspective, the design is simple and neutral.

Prices
The prices at the website are acceptable, but not optimal for this kind of service. For instance, for a college essay with 1 week deadline, you will pay $19 per page, which means $60 for a 3-pager. Quite a luxury for a student, and the price will nearly double for course works or research papers. Clearly, the price depends on the deadline, and the website offers urgencies up to 10 days. At other websites, 14 days and more can be chosen, which will ensure a lower price. Thus, although it is understandable that top level works require more time, obviously, emergency cases cannot be handled by WriteMyEssay4Me.org.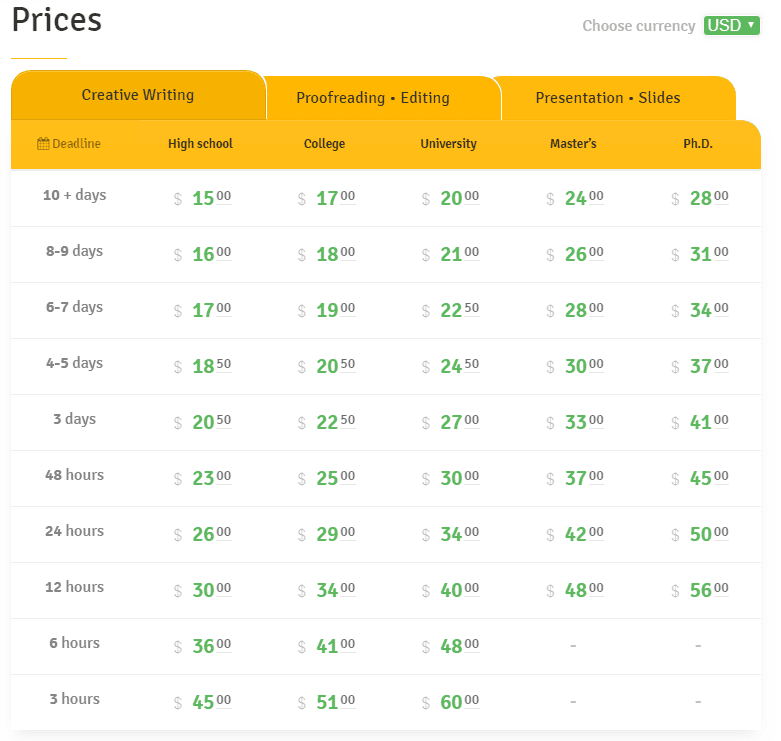 Discounts
There is no information about discounts available at the website. The similar companies offer discount system for regular clients, and the terms can be found on the home page. However, at WriteMyEssay4Me.org we have not found such information in any of the sections. In addition, there are no affiliate programs offered, and no special deals for first-time customers. This means that you will have to pay the full price of the order, even if it is your first trial order, or if you have been ordering from this website for years. However, the order form does have a field for a discount code, which means that they do offer discount codes on some occasions or for some special groups of clients, but none of that is explained on the website.
Quality
To check the quality of service at WriteMyEssay4Me.org, we ordered a paper from them. The order form is well-designed, the system accepted our order and there were no technical problems. Notably, you can only proceed with ordering if you give a valid phone number, so just an email will not do. Next, the payment can be made by a credit card or with Pay Pal, and few payment methods are offered. After we paid, they processed our and we receive automated emails with updates about the order status. When the deadline came, the order was delivered on time. However, the University level of writing that we ordered was not what we saw in the ready paper. Although the grammar and spelling had no errors, the paper structure was weak, and the language used was rather simplistic. In addition, although the references page was correct, some in-text citations were of the wrong formatting.
Customer Support
WriteMyEssay4Me.org offers customer support in chats or by telephone, both working 24/7. As for the first option, the agents in chats answer your requests right away, they are polite, and they answer mostly with standard canned responses. If any issue has to be addressed, it is likely that they will ask you to wait or offer to contact you later. Regarding the support by the phone, the line is not always free, and if you reach the support agent, they will offer you a written communication anyway because of its higher accuracy. Our request to the support team was to pass a message to our writer. They replied that they will ask the Writer to reply as soon as possible, however since the Writer is not online, the reply will take an unclear amount of time. The Writer did not respond to our message in the order too, and this communication problem could not be resolved quickly. After all, it took 14 hours for the Writer to reply to us, which is probably sooner than it would have been without our requests to the support team.
Guarantees
WriteMyEssay4Me.org guarantee the following:
Only original papers
Top quality of writing
Money back guarantee
Confidentiality of clients' data
Reasonable prices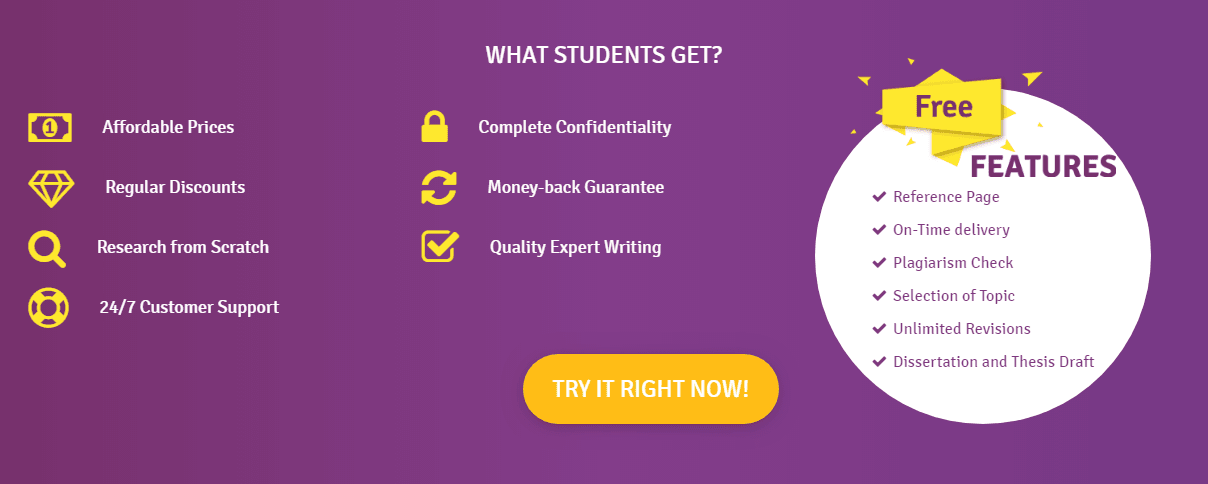 However, as one can see in our WriteMyEssay4Me.org review, some of these guarantees are only partially true, as we did not have a chance to receive a top quality paper, and, speaking honestly, it was a bit overpriced.
Advantages
Visually pleasant design;
Timely delivery;
Customer Support available 24/7.
Disadvantages
Prices higher than average;
No discount system or loyalty programs;
Insufficient quality of writing.
Conclusion
All in all, our WriteMyEssay4Me.org review showed that the service is not the best in the field of academic writing. The price-quality relationship is not as good as we had expected, and we cannot recommend this website to our readers.
7

"I would say that writemyessay4me is not very good. Yes, the quality of papers is nearly perfect, but at other services for such a price you can get much more."

Prices star star star star_border star_border

Discounts star_half star_border star_border star_border star_border

Delivery star star star star star_half

Support star star star star star

Usability star star star star star_half

"They overprice their service, really. But I can't say the paper quality is bad. It's not perfect, but it's not worth your money. Maybe a discount would change my mind, but it simply doesn't exist."

Prices star star star_border star_border star_border

Discounts star_half star_border star_border star_border star_border

Delivery star star star star_half star_border

Support star star star star star_border

Usability star star star star star_border

"I dealt with this service twice. Each time I requested revisions. Is there any point to saying anything else?"

Prices star_half star_border star_border star_border star_border

Discounts star_half star_border star_border star_border star_border

Delivery star_half star_border star_border star_border star_border

Support star star_border star_border star_border star_border

Usability star_half star_border star_border star_border star_border

"Papers are definitely overpriced."

Prices star star star_border star_border star_border

Discounts star_half star_border star_border star_border star_border

Delivery star star star_border star_border star_border

Support star star star star star_border

Usability star star star_border star_border star_border

"My paper probably wasn't edited, as it contained mistakes. I must admit the price is too high for the paper of average quality."

Prices star star star star_half star_border

Discounts star_border star_border star_border star_border star_border

Delivery star star star star star_border

Support star star star star_half star_border

Usability star star star star star

"Life became easier with online services. There is no need to spend long evenings in the library or sleepless nights at home. All you need to do is just place an order and get your paper done by professionals. My last paper here was almost perfect."

Prices star star star star_half star_border

Discounts star_border star_border star_border star_border star_border

Delivery star star star star star_half

Support star star star star star

Usability star star star star star_border