EssaysLab.com Review
Overall rating: star star star star star_half (9.3 / 10)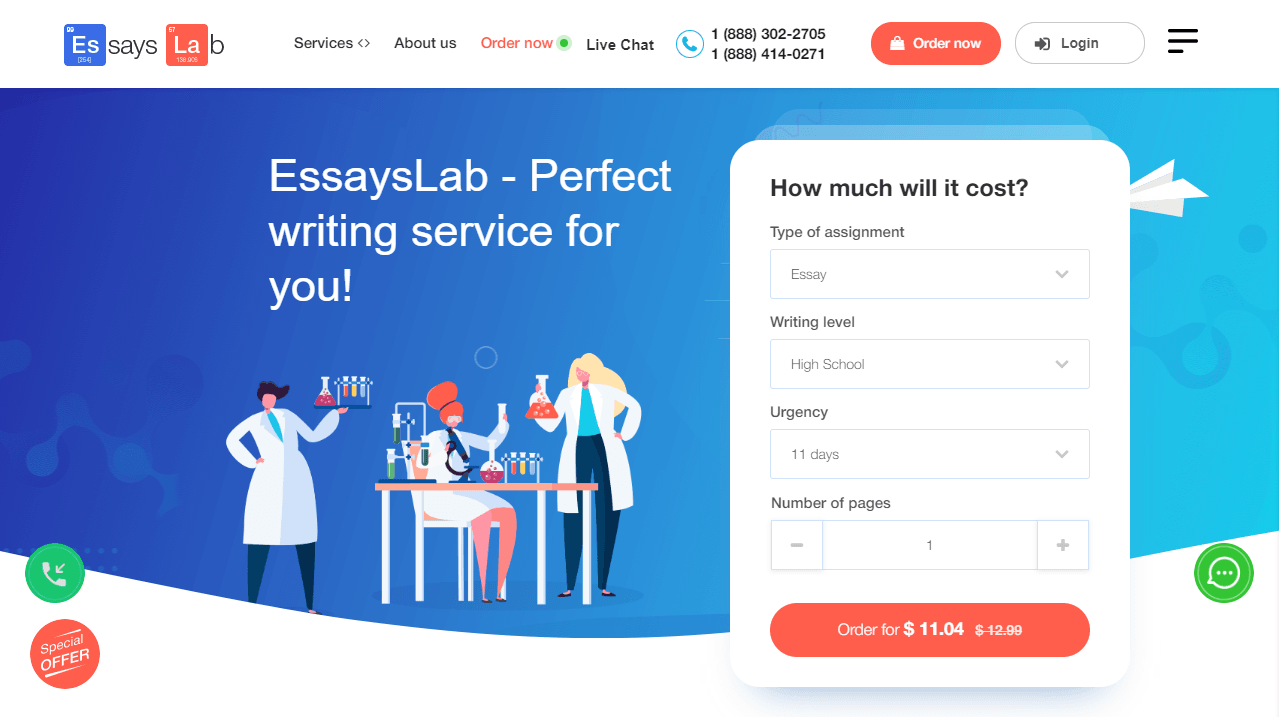 Price starts from:
$12.99
Minimum Deadline (hours):
3
Service Features
Paper Type
check Essay
check Research Paper
check Dissertation
check Article Writing/Review
check Book Review/Report
check Discussion Board Post
check Business Report
Customer Support
check 24/7
check Toll-Free
check Online Chat
check English Support
check Call Back
check E-mail
clear Skype
Free Items
check Title page
check Paper outline
check Bibliography
check Styling and formatting
check Written samples
check Plagiarism report
check Revision
General Info
When students need assistance with their academic work, they pay to do the research and find a custom writing service company that delivers on its promises. For this article, we will take a look at EssaysLab.com, a company that offers a wide range of writing services including research papers, case studies, capstone projects, cover letters, CVs, book reports, and even dissertations for PhD-level students. They also offer editing and proofreading services. Our first impression when we looked at the website is that it is well organized, contains all of the necessary links, and even includes an embedded video that highlights some of the company's features. Pretty effective marketing. Of all the reviews we have done, this is the first time we have come across that. But all of this aside, can customers count on EssaysLab.com to provide what they need? Let us take a look at some of the important indicators and render a verdict.
Prices
The cost for the cheapest order is $12.99 per page. This gets you a high school level essay with an 11-day deadline. This is pretty much the standard price in the custom writing industry where some companies charge as little as $11 and others as much as $15 for their lowest cost paper. As is the case with all companies, the price of a paper depends on the type of order (i.e., basic essay, research paper, dissertation, etc.), academic level, number of pages, and deadline. They also offer extra services for an additional fee such as access to their VIP services, a preferred writer, extended revisions, a draft of the paper before the deadline and a few others.
In addition, they offer a few of their services free of charge, such as a title page, abstract, and bibliography. Most other companies offer these as well. However, unlike a lot of companies, EssaysLab.com also provides free writing examples. So that's a definitely plus, especially since there are so many different subjects to choose from. Just keep in mind that these are not intended to be used as your own work. You would still need to order a custom paper.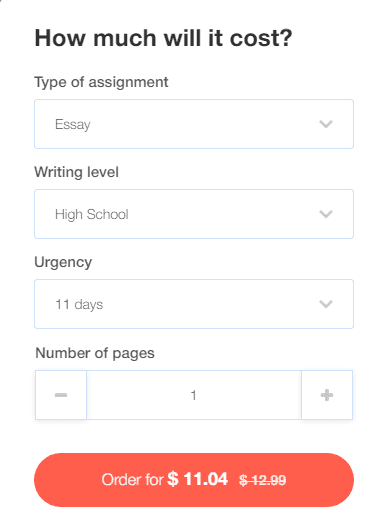 Discounts
EssaysLab.com provides first-time customers with a 15% discount, which is about average in the industry. By comparison, we have found that many companies provide a 10% discount whereas in a few very rare cases it is as high as 20%. They also have a loyalty discount program based on the total number of pages that a customer orders added together. Once a customer reaches the 30-page threshold, they automatically receive 5% their orders until the total number reaches 50, at which point they receive 10%. Once a customer reaches 100 pages, they are entitled to 15% for the lifetime of their account. Assessing discount programs are a bit tricky. There are some companies that offer 10% once the customer reaches 30 pages. On the other hand, other companies do not offer it until the customer has bought more than 50 pages. So in this respect, EssaysLab.com falls in the middle. Of course, what really matters more than discounts is the quality of the work.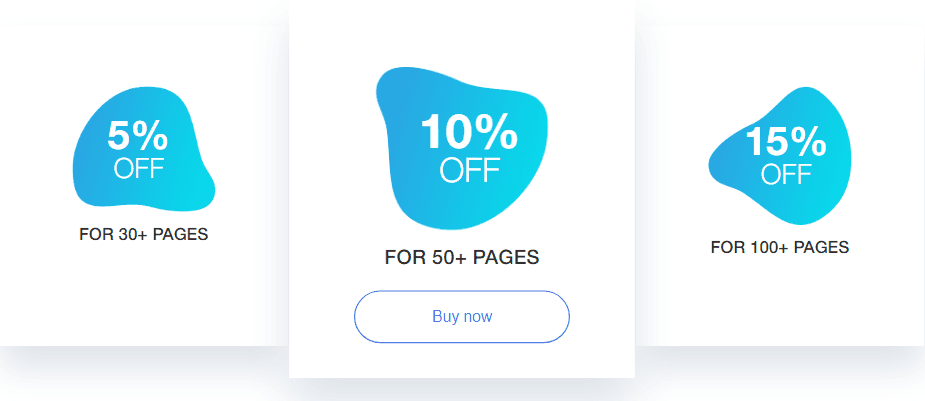 Quality
We ordered two papers. One was a 4-page essay with a 6-hour deadline. The other was a 10 page research paper with an 11 day deadline, but contained several specific instructions, including 12 reputable sources and MLA format. We got the 4-page essay back by the deadline and it looked perfectly fine. We did not find any grammar mistakes and had it been turned in to a professor, it would have gotten a decent grade. The 10-page research paper was passable, although we asked for revisions because a couple of the sources were not as current as they should have been. We should emphasize that the writer was professional about this and responded quickly to this request and the replacement sources were terrific.
Customer Support
The customer support agents can be reached 24/7 via Live Chat, toll-free by phone and email. We asked the same question to several agents to make sure they were consistent in their answers. They passed that test without a hitch. We also called them at various hours to check out their response time. They always answered the phone and were punctual about replying to our messages. We found them to be professional and knowledgeable, which is exactly what you should expect from a good company.
Usability
The website was really well put together. As noted, it contains a video that is enjoyable to watch. It also includes links to all of the important information regarding the company, its services, reasons for choosing them, their prices, and even free essay samples and a useful blog. Perhaps the best feature is their easy-to-use price calculator. It can even convert the currency into US Dollars, Pounds, Euros, and Australian Dollars. Very convenient.
Guarantees
Unique Content
Free revision
Privacy Protection
Secure Payments
Money-back Policy
Features
A wide range of services
Various deadline options
Free revision within a 48 hour window
Direct communication with a writer
Free plagiarism report by request
Free essay examples
Conclusion
Based on our assessment of EssaysLab.com, we would definitely recommend this company to students. The papers we received were solid and contained nothing beyond a few easy to fix mistakes. The prices were very reasonable. The customer service team was reliable and were clearly trained. The website contains a lot of useful information and is well organized. We also like the fact that they have a large library of sample essays on virtually subjects, which is really helpful.
30

Prices star star star star star_border

Discounts star star star star star_border

Delivery star star star star star

Support star star star star star_border

Usability star star star star star

"I loved the help with my physics project. Essayslab, made it so easy."

Prices star star star star star

Discounts star star star star star

Delivery star star star star star

Support star star star star star

Usability star star star star star

"I love these guys! I needed help with my computer science class and these guys took it to the top of the project. THANK YOU!"

Prices star star star star star_half

Discounts star star star star star_half

Delivery star star star star star_half

Support star star star star star_half

Usability star star star star star_half

"I'm satisfied with their jobs, done it with professionalism."

Prices star star star star star_border

Discounts star star star star star_border

Delivery star star star star star_border

Support star star star star star_border

Usability star star star star star_border

"This is the best assignment help service. This guys have all solutions for any type of assignments."

Prices star star star star star

Discounts star star star star star

Delivery star star star star star

Support star star star star star

Usability star star star star star

"I have submitted about 20 orders. I have been impressed with each one. I am so happy to have found this service! Each writer that I have worked with has given me a perfect paper. I couldn't be happier."

Prices star star star star star

Discounts star star star star star

Delivery star star star star star

Support star star star star star

Usability star star star star star