Studybay.com Review
Overall rating: star star star star_border star_border (6.2 / 10)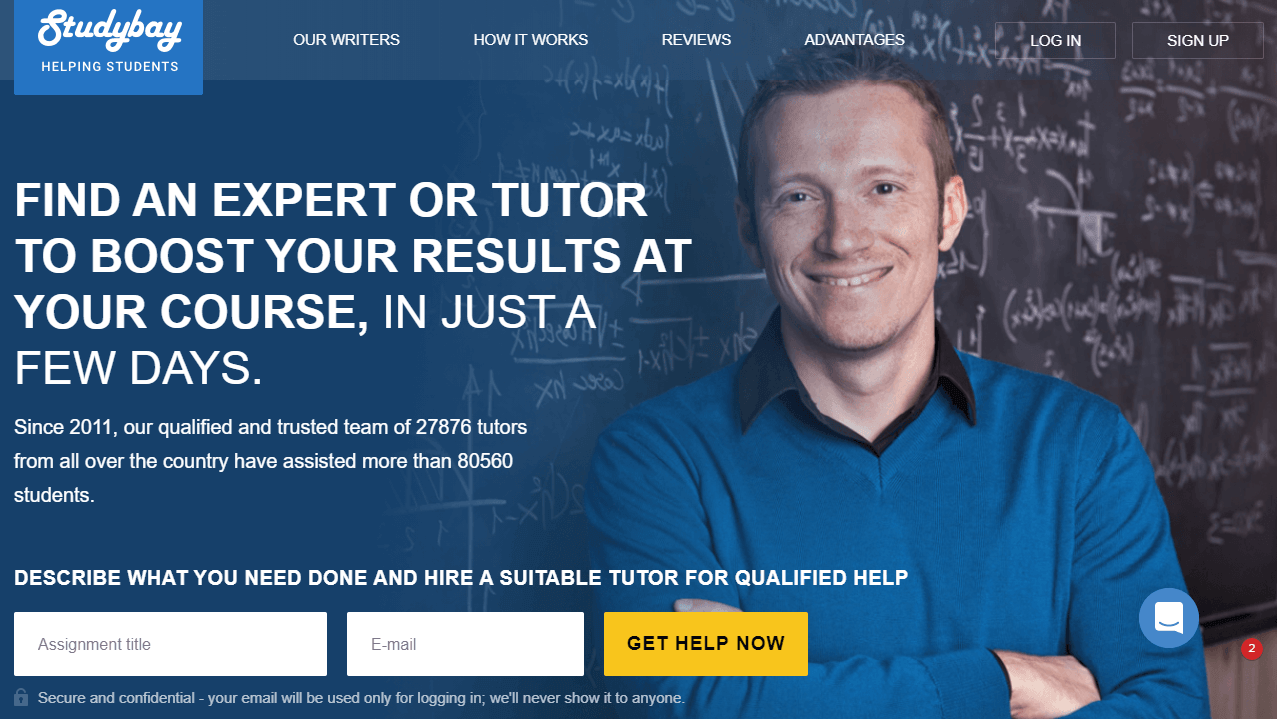 Minimum Deadline (hours):
4
Service Features
Paper Type
check Essay
check Research Paper
check Dissertation
check Article Writing/Review
check Book Review/Report
clear Discussion Board Post
check Business Report
Customer Support
check 24/7
check Toll-Free
check Online Chat
check English Support
clear Call Back
check E-mail
clear Skype
Free Items
check Title page
clear Paper outline
check Bibliography
check Styling and formatting
check Written samples
clear Plagiarism report
check Revision
General Info
When it comes to picking an academic writing company to help you with your essays, there is no shortage of choices. However, not all services are created equal. With that in mind, we took a look at Studybay.com, a writing service that offers essays, dissertations, research papers, and several other types of academic help. In order to determine whether they deliver on their promises, we evaluated their prices, their discount policy, the quality of their papers, the professionalism of their customer support team, and the user-friendliness of their website. Let us see how they fared.
Prices
The first thing we noticed is that there is no actual price listing. In fact, even the price calculator is basically useless because when you try to plug in a proposed deadline, nothing happens. In order to actually get a price quote, the user has to send an email. The website says a high school level paper costs $6/page, which if true would make it the cheapest price we have found so far. But, again, they make it as difficult as possible to figure this out. The website contains claims that certain papers with a 4-hour deadline can be completed for as little as $3, but this is either misleading or an outright falsehood.

Discounts
Unlike the vast majority of writing service companies, Studybay.com does not offer a lifetime discount program that rewards customers based on the number of pages they order. They do offer you a $5 credit after you place your first order, but that money must be applied to future orders rather than going into your pocket, in contrast with other companies that simply deduct the cost from your order and let you keep the money. Also, they have an affiliate program that rewards customers for referring new customers to their services, although the way they word it makes no sense, which is a bad sign. If they cannot express themselves well on their website, how can a customer expect their essay writers to know what they are doing?
Quality
As is the case with all of the companies we review, we ordered the same types of papers so that we could compare the results. First, we ordered a 3-page paper with a 4-hour deadline to see if they would send it by the deadline. We did get it, but it was essentially a C+ paper. Very remedial writing, and the writer did not seem to have a very good understanding about the topic in spite of the company's promises. But what was really surprising is that when we ordered a paper with a 5-day deadline, the writer failed to deliver in time and asked for an extension based on the excuse that they lost their Internet connection. While we can never prove or disprove this, we nonetheless found this to be highly suspicious. Instead of granting the extension (since there was really no point), we asked for a refund.
Customer Support
The customer support team is available 24/7 and can be reached via phone, Live Chat and email. The agents were one of the few bright sides of ordering from the company. We tested out their response time, and they always got back promptly. They were professional and polite. When our second paper did not arrive by the deadline, they apologized and tried to talk us into accepting a discount. When we insisted on getting our full refund, they complied without getting obnoxious. In past reviews, we have had to deal with really rude agents when requesting refunds, but it was not an issue with Studybay.com. Nonetheless, the fact that we needed to resort to asking for a refund is not acceptable.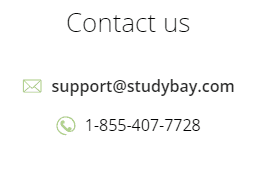 Usability
The website is easy enough to navigate and contains a comprehensive list of their services. They also have a lot of really useful blogs that contain writing tips and examples. Nonetheless, the fact that they do not offer a properly functioning price calculate is a huge mistake, especially since you have to jump through hoops to otherwise get a price quote.
Guarantees
Zero-Plagiarism
Money back guarantee (we can personally vouch for this)
Strict protection policy
Safe payment system
Features
They really do not mention a whole lot about their features. For instance, they do not offer any discounts beyond their affiliate program. We also have no clue about their revision policy, which is something that almost every other company is very clear about.
Conclusion
Unfortunately, aside from a sympathetic customer support team that promptly processed our refund request, there really are not a lot of positive things to say about Studybay.com. The useless pricing calculator is unhelpful and the fact that you have to plug in personal information in order to get a price quote is not acceptable. While we can definitely conclude that Studybay.com is not a scam, it is clearly operated by incompetent management who are not entire sure how to operate a custom writing service company.
8

"The site is a complete mess. I wanted to calculate the price, but it seemed impossible to do as the calculator was broken. I decided not to use this service and found another one with better offer and more options available on the site."

Prices star star star star_border star_border

Discounts star star star_half star_border star_border

Delivery star star_half star_border star_border star_border

Support star_border star_border star_border star_border star_border

Usability star star_border star_border star_border star_border

"They missed the deadline for the first time, I shouldn't have used them for the second time. The only reason I placed an order was low price."

Prices star star star star star_border

Discounts star star star star_border star_border

Delivery star star_half star_border star_border star_border

Support star star star_half star_border star_border

Usability star star star star_border star_border

"You can write better papers than this service even if you can't write good essays."

Prices star star star star_border star_border

Discounts star_half star_border star_border star_border star_border

Delivery star_half star_border star_border star_border star_border

Support star star star_border star_border star_border

Usability star_half star_border star_border star_border star_border

Prices star_half star_border star_border star_border star_border

Discounts star_half star_border star_border star_border star_border

Delivery star_half star_border star_border star_border star_border

Support star_half star_border star_border star_border star_border

Usability star_half star_border star_border star_border star_border

"They assigned me a writer who had no idea the difference between APA and MLA cause I ordered the document in APA and got it in MLA. Doesn't nobody check the papers before sending them to customers?"

Prices star_half star_border star_border star_border star_border

Discounts star_half star_border star_border star_border star_border

Delivery star_half star_border star_border star_border star_border

Support star_half star_border star_border star_border star_border

Usability star_half star_border star_border star_border star_border

"If you are planning to use the service, be ready to receive not what you asked for."

Prices star star star star star_border

Discounts star star_border star_border star_border star_border

Delivery star star_border star_border star_border star_border

Support star star star_border star_border star_border

Usability star star_border star_border star_border star_border

"good quality for low price"

Prices star star star star star_border

Discounts star_half star_border star_border star_border star_border

Delivery star star star star star_border

Support star star star star_border star_border

Usability star star star star star_border

"$5 credit for bad papers? Yea!!!!"

Prices star star star star star

Discounts star star star_border star_border star_border

Delivery star star star_border star_border star_border

Support star star star_border star_border star_border

Usability star star star_border star_border star_border