StudyBay.com Review: Quality, Prices, Usability
Overall rating: star star star star_border star_border (6.2 / 10)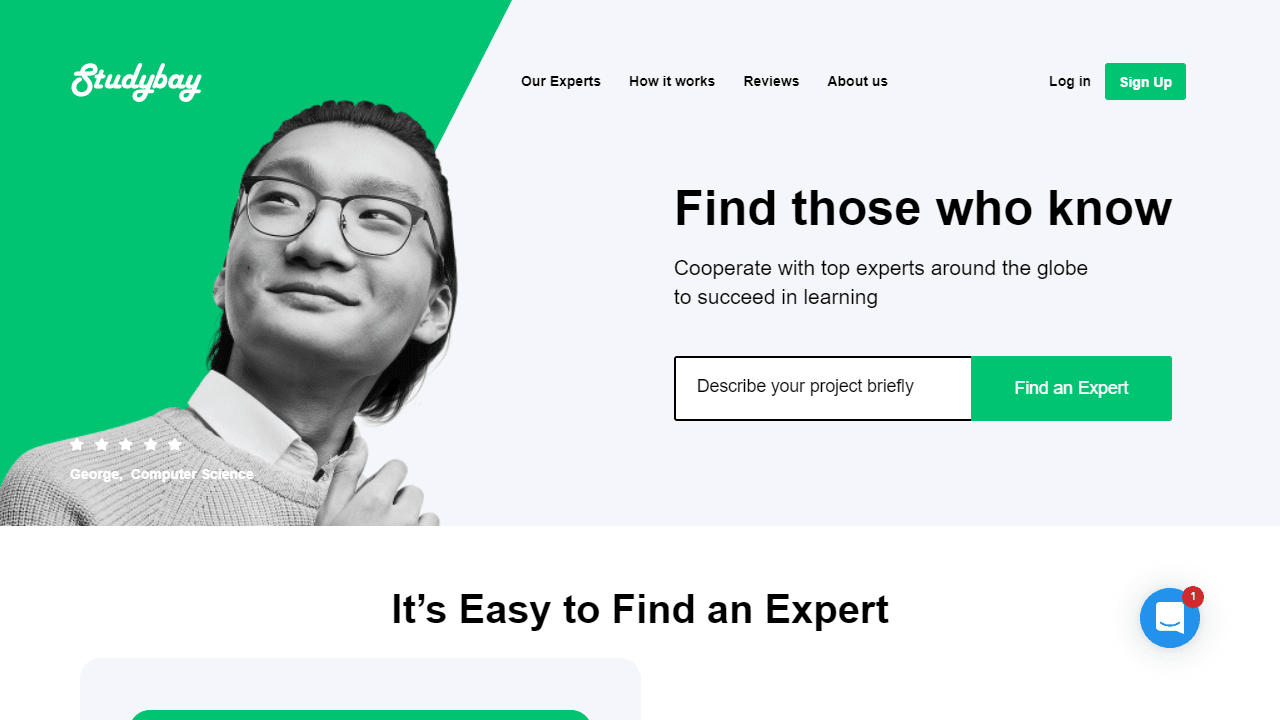 Minimum Deadline (hours):
4
Service Features
Paper Type
check Essay
check Research Paper
check Dissertation
check Article Writing/Review
check Book Review/Report
clear Discussion Board Post
check Business Report
Customer Support
clear 24/7
check Toll-Free
check Online Chat
check English Support
clear Call Back
check E-mail
clear Skype
Free Items
clear Title page
clear Paper outline
clear Bibliography
clear Styling and formatting
clear Written samples
clear Plagiarism report
check Revision
StudyBay.com Review: General Info
Being a student is not easy. On the one hand, it is a great opportunity to meet interesting people, learn new information, and grow mentally. On the other hand, you should struggle with numerous challenging assignments including essays, research papers, PowerPoint presentations, case studies, and many other projects. Some students prefer to do their papers on their own following the samples available on the web. However, finding a reliable writing partner is a much better solution since it may save the student from stress and anxiety caused by a challenging academic curriculum. There are dozens of writing companies offering their assistance, yet not all of these writing services are reliable. StudyBay.com is one of the writing platforms providing writing services of different types. Is StudyBay.com Legit? In our StudyBay.com review, we are going to answer this and many other questions.
When we first visited this website, we noticed that there is no information familiarizing the potential customers with the services they offer. Only when we found a price calculator, we noticed what services are provided by the company and how much do they cost. In fact, the company offers a wide range of writing, editing, and proofreading services of different complexity levels. The scope of their work is not limited to only students' needs. As such, we noticed that they offer SEO article writing services, SWOT analysis writing services, as well as many other writing services that are not available at other writing platforms. Based on his information, we can say that StudyBay.com definitely has a huge team of writers specializing in diverse academic tasks.
Usability
The website design leaves much to be desired. It is full of unnecessary information, which makes it pretty difficult to navigate. Whereas there is a navigation menu, it does not include such important fields as Testimonials and Services. In fact, these two fields are the main ones for potential customers, who want to find out what services are offered by the company and what other customers say about them.
Studybay.com Prices
The first thing we noticed is that there is no actual price listing. In fact, even the price calculator is basically useless because when you try to plug in a proposed deadline, nothing happens. In order to actually get a price quote, the user has to send an email. The website says a high school level paper costs $6/page, which if true would make it the cheapest price we have found so far. But, again, they make it as difficult as possible to figure this out. The website contains claims that certain papers with a 4-hour deadline can be completed for as little as $3, but this is either misleading or an outright falsehood. Unfortunately, numerous reviews say that this company imposes hidden charges on its customers. They charge their customers extra as a processing fee at checkout. Such an approach sets the price of the paper back to the average. However, it should be noted that experienced customers don`t cooperate with the bidding service because of the lowest price. They prefer another benefit that enables them to negotiate with the top-rated writers and convince them to drop their prices.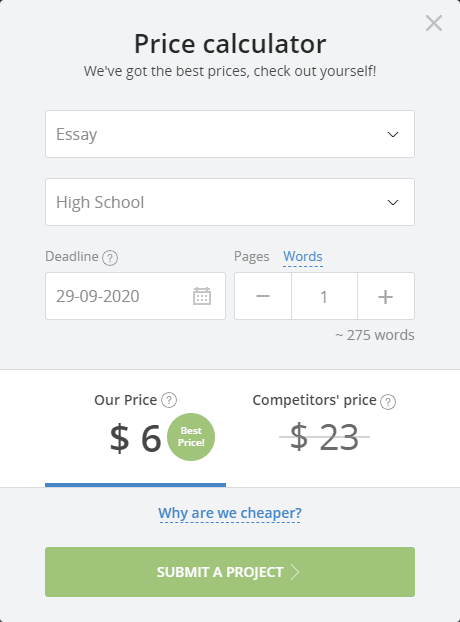 Besides, the information about the pricing rates of their competitors is completely fake because the average price per page in this industry is approximately $13.
Studybay.com Discounts
When reviewing the website, we noticed that this service does not offer any discounts to its customers. They do not provide any coupons that can allow their customers to reduce the price of their orders, which is rather inconvenient. The prices for a bidding system should be more reasonable because it is not as convenient as a traditional one. We noticed that the only way to reduce the price of the order is to discuss it with the writer.
They do offer you a $5 credit after you place your first order, but that money must be applied to future orders rather than going into your pocket, in contrast with other companies that simply deduct the cost from your order and let you keep the money. Also, they have an affiliate program that rewards customers for referring new customers to their services, although the way they word it makes no sense, which is a bad sign. If they cannot express themselves well on their website, how can a customer expect their essay writers to know what they are doing?
Quality
Low quality is, probably, the main disadvantage of this writing platform. Among multiple StudyBay.com reviews, you will hardly find positive ones. Most reviews say about poor grammar, plagiarism, and the low level of English. Obviously, the vast majority of writers working here are not English native speakers. If they want to provide their customers with high-quality papers, they should better check the qualifications of their writers before hiring them.
The best way to check the quality offered by the company is to purchase a paper. We have ordered a college-level research paper on cyberbullying. Although our instructions were not complex, the writer failed to meet all of them. The paper lacked clarity and consistency. Besides, the writer used outdated sources and cited them incorrectly. This paper would not bring a good grade for a student. Perhaps, the student could have asked for some revisions but we requested a refund because we found many discrepancies between the paper we received and the instructions we provided.
Nevertheless, it is possible to find a good writer at this service. However, since the quality is pretty unpredictable, it is better to look for another company. Although they offer pretty low prices, the quality of services they provide is far from being good. As such, students, who take care of their academic reputation should not entrust their assignments to this writing service.
Customer Support
Customer support representatives were too busy to answer our questions. If you place an order at this writing platform, you should be ready that you will communicate mainly with the writer. Support agents are available on weekdays only, 10 AM - 8 PM (ETZ).
Guarantees
Studybay.com offers the same guarantees that can be found at any writing service:
100% privacy;
Plagiarism-free content;
Money-back guarantee.
Feedback
When we checked the rate of Studybay.com on their website, it showed the average review score of 4.8/5. However, when we looked through third-party StudyBay.com reviews, we noticed that the vast majority of their customers are not satisfied with the level of services they provide. The multiple complaints refer to poor writing, wrong structure, inability to meet the instructions, and many others.
Features
They really do not mention a whole lot about their features. For instance, they do not offer any discounts beyond their affiliate program. We also have no clue about their revision policy, which is something that almost every other company is very clear about.
Conclusion
Unfortunately, aside from a sympathetic customer support team that promptly processed our refund request, there really are not a lot of positive things to say about Studybay.com. The useless pricing calculator is unhelpful and the fact that you have to plug in personal information in order to get a price quote is not acceptable. While we can definitely conclude that Studybay.com is not a scam, it is clearly operated by incompetent management who are not entire sure how to operate a custom writing service company.

8

"$5 credit for bad papers? Yea!!!!"

Prices star star star star star

Discounts star star star_border star_border star_border

Delivery star star star_border star_border star_border

Support star star star_border star_border star_border

Usability star star star_border star_border star_border

"good quality for low price"

Prices star star star star star_border

Discounts star_half star_border star_border star_border star_border

Delivery star star star star star_border

Support star star star star_border star_border

Usability star star star star star_border

"If you are planning to use the service, be ready to receive not what you asked for."

Prices star star star star star_border

Discounts star star_border star_border star_border star_border

Delivery star star_border star_border star_border star_border

Support star star star_border star_border star_border

Usability star star_border star_border star_border star_border

"They assigned me a writer who had no idea the difference between APA and MLA cause I ordered the document in APA and got it in MLA. Doesn't nobody check the papers before sending them to customers?"

Prices star_half star_border star_border star_border star_border

Discounts star_half star_border star_border star_border star_border

Delivery star_half star_border star_border star_border star_border

Support star_half star_border star_border star_border star_border

Usability star_half star_border star_border star_border star_border

Prices star_half star_border star_border star_border star_border

Discounts star_half star_border star_border star_border star_border

Delivery star_half star_border star_border star_border star_border

Support star_half star_border star_border star_border star_border

Usability star_half star_border star_border star_border star_border

"You can write better papers than this service even if you can't write good essays."

Prices star star star star_border star_border

Discounts star_half star_border star_border star_border star_border

Delivery star_half star_border star_border star_border star_border

Support star star star_border star_border star_border

Usability star_half star_border star_border star_border star_border