PrivateWriting.com Review
Overall rating: star star star_half star_border star_border (5 / 10)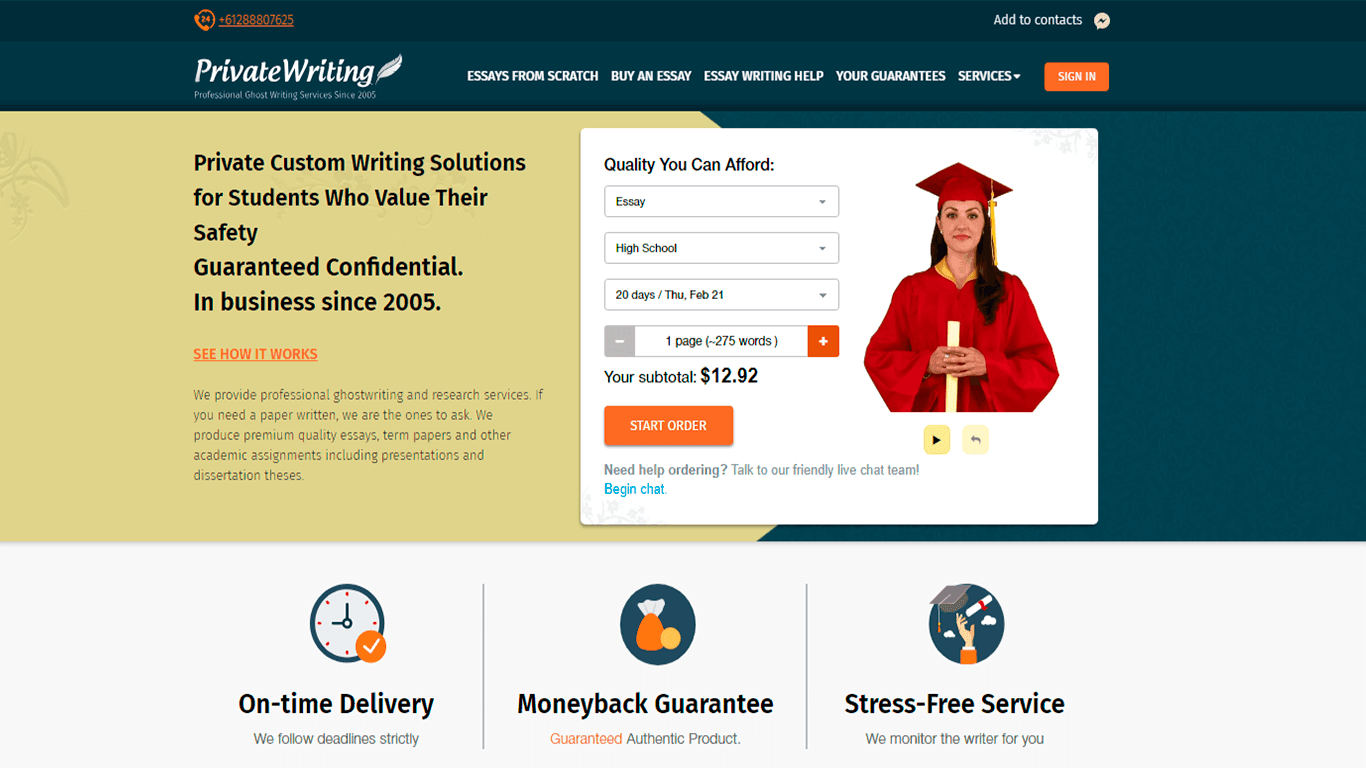 Price starts from:
$14.03
Minimum Deadline (hours):
3
Service Features
Paper Type
check Essay
check Research Paper
check Dissertation
check Article Writing/Review
check Book Review/Report
clear Discussion Board Post
clear Business Report
Customer Support
check 24/7
check Toll-Free
check Online Chat
check English Support
clear Call Back
clear E-mail
clear Skype
Free Items
check Title page
check Paper outline
check Bibliography
check Styling and formatting
check Written samples
clear Plagiarism report
check Revision
Overview
PrivateWriting.com is an online company that deals mostly with preparing various papers for students, with a wide range of writing services available at the website. Their office is located in the U.S.; however, the company's team is international: the freelance writers who work for them mostly live in other countries and are not native speakers. Having been asked to make a detailed PrivateWriting.com review, we became their clients and went through the whole ordering process, in order to make an objective judgment about this service. We expect this review to be useful for the students who are considering collaborating with this PrivateWriting.com.
Prices
To find the prices for the services, one has to scroll the home page all the way down and find the "Prices" option in the list of additional sections, made with small grey letters. The pricing table itself is rather unconvenient to use, and the visitors can't get a clear idea about how much their order will cost. Half of urgency bar is empty, but prices are there.
Prices is rather odd than understandable. $18.19? $15.09? $25.73? What is the point to use such odd numbers?
The lowest price for the simplest writing with the longest deadline is $14.03 per page, while the maximum academic level and the minimal possible urgency will cost $53.43. The only suspicious aspect is PrivateWriting.com offering extremely short deadlines (1 hour) for PhD papers, which is clearly an insufficient time for a work of such level.
Discounts
At the website, there is no clear section that explains the discount policy of the company. However, after browsing the home page for about 5 minutes, we had an advertisement popping out, which said that we could receive 7% off our first order, with the condition that we provide our email address for receiving their informative letters. Also, we found a heading that said "affiliate program" at the website, but virtually no information was given there. All it had was a message that only loyal clients of the website could take part in this program and learn about its rules. Not a very welcoming approach, to our mind.
Quality
As usual, we did not order any extravagant assignments: this time it was a college essay, five-pager, with the deadline of 2 weeks. With such a deadline, we were surprised to have had the paper delivered almost 1 day later, due to some misunderstandings with the writer. As for the paper quality, we were shocked with the nonchalant and sloppy style of writing, with a few unacceptable mistakes in word choice and collocations. The person who wrote this work was obviously not fluent in English, and similar complaints can be found in some other feedbacks that we read before carrying our review.
Customer Support
Surprisingly, the site has no contact information available for the visitors. All they offer is a request form, where one can leave their telephone number and wait for a callback. Also, they have something that looks like an online chat window, but once you press it, there is no chat and no field for messages; there is only one phrase, "We are online 24/7 to help you", and nothing else. Well, even if that window is there 24/7, it was not very helpful to us. Later, we also found a telephone number in very small digits, and we called to complain about our paper. The support agents tried to convince us to accept the paper as it is and refused to return our money.
Usability
The website makes a good first impression, and the information seems clear and accessible. However, with a deeper analysis, it becomes clear that certain aspects, such as discount policy or the company's contact data are disguised for some unknown reasons. In our opinion, they should bring more transparency to these points.
Guarantees
PrivateWriting.com guarantees to the visitors:
24/7 support of the clients
meeting the deadline
revising the paper for free
100% authentic works
However, our PrivateWriting.com review proves that these guarantees are not always true in practice, as the support does not work properly, the revision will not always be provided, and the deadline can be ignored in certain cases.
Advantages
The only positive and useful functions at the analyzed website were:
Sample papers that can be downloaded for free
Good and clear-cut order form.
Conclusion
We regret to conclude that PrivateWriting.com cannot be recommended to those who are looking for writing services of ultimate quality. This company cannot compete with the services that are in the leading positions of our rating, and thus we would like to protect our readers from the risk of being let down by PrivateWriting.com.
7

"PLEASE DON'T USE IT! I PAID 200 BUCK AND THEY GAVE ME NOTHING IN RETURN!!!! THIS IS SCAM!!!!!!"

Prices star_half star_border star_border star_border star_border

Discounts star_half star_border star_border star_border star_border

Delivery star_half star_border star_border star_border star_border

Support star_half star_border star_border star_border star_border

Usability star_half star_border star_border star_border star_border

Prices star star star star_half star_border

Discounts star star star star_half star_border

Delivery star star star star_half star_border

Support star star star star_half star_border

Usability star star star star_half star_border

"There are numerous better services in the industry, for sure."

Prices star star_border star_border star_border star_border

Discounts star star_border star_border star_border star_border

Delivery star star_border star_border star_border star_border

Support star star_border star_border star_border star_border

Usability star star_border star_border star_border star_border

"Do not waste your time."

Prices star star star_border star_border star_border

Discounts star star star_border star_border star_border

Delivery star star star_border star_border star_border

Support star star star_border star_border star_border

Usability star star star_border star_border star_border

""To be honest", "As for me"... Do not trust this service and guys above. it is crap"

Prices star_half star_border star_border star_border star_border

Discounts star_half star_border star_border star_border star_border

Delivery star_half star_border star_border star_border star_border

Support star_half star_border star_border star_border star_border

Usability star_half star_border star_border star_border star_border

"As for me, I expected the writer would do deeper search and give a personal approach to my work. In the end, I got an average paper."

Prices star star star_half star_border star_border

Discounts star star star star star

Delivery star_half star_border star_border star_border star_border

Support star star star star star_border

Usability star star star star star