MyPerfectWords.com Review
Overall rating: star star star_half star_border star_border (5.3 / 10)
Minimum Deadline (hours):
12
Service Features
Paper Type
check Essay
check Research Paper
check Dissertation
check Article Writing/Review
check Book Review/Report
clear Discussion Board Post
clear Business Report
Customer Support
check 24/7
check Toll-Free
check Online Chat
check English Support
check Call Back
check E-mail
clear Skype
Free Items
clear Title page
check Paper outline
check Bibliography
check Styling and formatting
clear Written samples
check Plagiarism report
check Revision
General Information
This review aims at providing an unbiased and objective Myperfectwords.com review for its potential users, evaluating the positive and negative features of the website's functioning. Myperfectwords is known by many students as an online writing service that deals with various academic assignments. The website is rather convenient to use, the navigation panel is clear and all the key sections can be found quickly. The system provides a lot of prompts to new users, which makes site operation more effective.
When browsing the website order form, we have noticed that they offer assisting with a great number of types of assignments, from the traditional essays and research papers to the more complex kinds of tasks, such as group projects, PDF posters and Capstone projects. The clients can also choose from a wide range of academic levels and deadlines, which allows forming any kind of order online and get it done. Moreover, the company also deals with additional services, such as editing, proofreading, formatting, and revising. Such readiness to deal with any kind of order parameters made us wonder whether the service is indeed as good as they claim to be, so we decided to order from them and make one of myperfectwords reviews.
Prices and Discounts
In general, Myperfectwords prices look far from adequate, although their formation seems transparent. The price calculator is available at the website's homepage, so everyone can count the potential cost of the order before placing it, which is fair and convenient. However, the amount of money they charge for their services surprised us, as even the cheapest kind of writing will not cost less than $29 per page. In comparison with the similar companies, this rate is too high, and we are yet to check if the quality justifies the price.
As for Myperfectwords discounts, there are none of them from what we saw. There are no discount codes, special offers, or loyalty programs being promoted on the website's banners or sent to clients in emails. We also did not manage to find any information about discounts in the Terms and Conditions at the website, so we can assume that the cosmic prices we have seen is their final deal. As newcomers to the website, we were upset by this fact, as paying such a great amount of money for something we are not certain to like in the end is not very promising.
Quality
For this Myperfectwords review, we have ordered the same type of order as with all the other companies we have tested, which is a Master's level 5-pager with 12 hours of urgency. The paper was delivered right on time, with no late submissions or inquiries about time extension, which is a good thing. Nevertheless, having received the ready work, we were disappointed by the writing's quality. Although the paper contained no errors or serious grammar or content mistakes, the research was rather shallow and failed to present an original vision or use a fresh approach to topic discussion. All in all, it was mediocre and certainly not worth the sum we have paid for it.
Customer Support
The website provides customer support via online chat, telephone lines, and email. Support representatives work 24/7, so they can be reached at any convenient hour. Although they are polite and friendly, their response time is too big, and we had to spend twenty minutes in chat to have some simple request addressed. In addition, the support agents often use canned responses or simply copy the information from the website instead of typing an original answer to our particular questions, which is sometimes annoying. All in all, the experience of support varies depending on the person handling your request.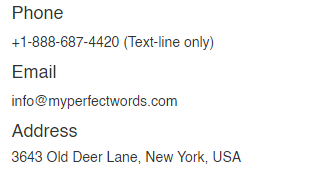 Usability
Many new users wonder if Myperfectwords is a scam, and we can assure them that this service is real and does not steal anyone's money. Nevertheless, its usability is not exactly outstanding, as the website has tons of articles written for the clients, and they are obviously needless. In an attempt to attract customers, the company filled their website with many pieces of information that no one ever clicks on.
Guarantees
Authentic content with no plagiarism;
Completing the tasks on time;
Excellent writing.
Conclusion
Having ordered from Myperfectwords, we know what it feels like to be one of their clients, and it is not the best feeling in the world because of many reasons. First of all, the claimed excellence of writing is nothing but an empty promise, as the service totally failed to deliver a paper that would be engaging or written in an original way. Although the content was unique and contained no plagiarism, its quality is far from desirable, and there is nothing in it that is worth the money we paid for it. Besides, there are no special offers for the clients, so the service is obviously not willing to be flexible or loyal to its new or regular clients. Considering all the mentioned reasons, we cannot recommend this company to our readers.
Have you used this company's services? What was your ordering experience? Share your impressions in comments.