ManyEssays.com Review
Overall rating: star star star star star_half (9 / 10)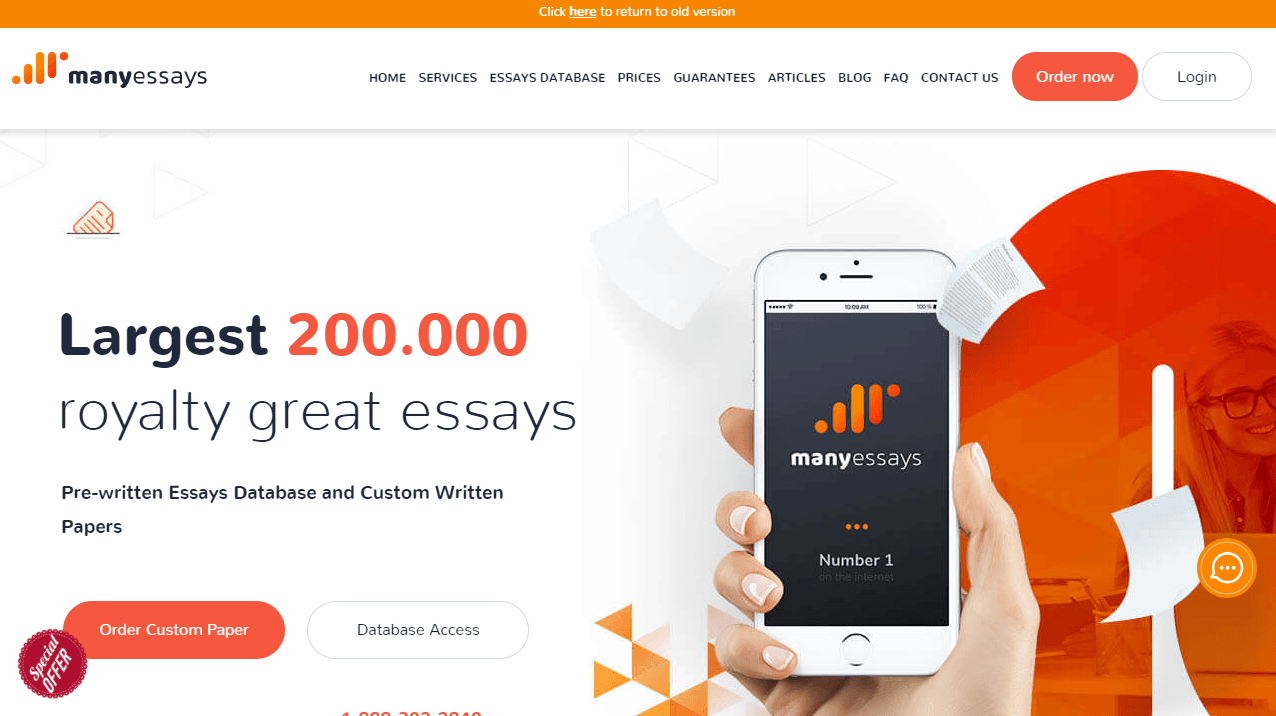 Price starts from:
$12.99
Minimum Deadline (hours):
3
Service Features
Paper Type
check Essay
check Research Paper
check Dissertation
check Article Writing/Review
check Book Review/Report
check Discussion Board Post
check Business Report
Customer Support
check 24/7
check Toll-Free
check Online Chat
check English Support
check Call Back
check E-mail
clear Skype
Free Items
check Title page
check Paper outline
check Bibliography
check Styling and formatting
check Written samples
check Plagiarism report
check Revision
General Info
ManyEssays.com is a professional custom writing company that provides customers with academic and professional writing. Like many companies, the bulk of their clients are college and graduate-level students. Aside from custom writing, they also have editing, proofreading, rewriting, and formatting services. One of their major features is a library containing more than 2,000 essay examples that students can use as models to get started.
Prices
ManyEssays.com's prices start at $12.99/page for high school-level work with an 11-day deadline. Based on what we have seen from other custom writing sites, this is the industry average. We have seen other companies charge a dollar less and a few a dollar or two more. The company also offers a few free features such as a title page, outline, abstract, reference page, and plagiarism report.
As is common with custom writing companies, the prices are determined by the complexity of the paper, the academic level, deadline and number of pages.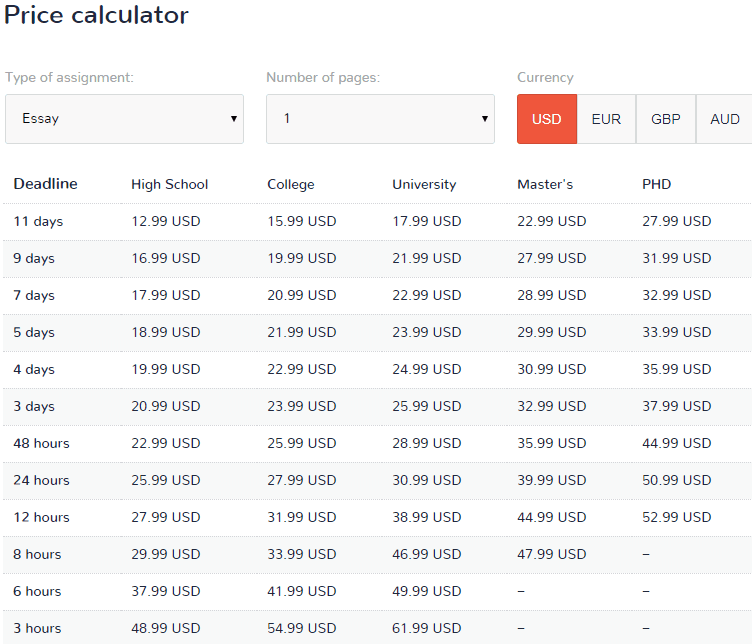 The company also offers students the option of buying 30 day ($28.95), 90 day ($58.95) or 180 day ($88.95) access to their essay database, which contains more than 188,000 papers. However, the description is a bit vague. For instance, the website does not explain whether students can actually download these papers. Also, we are left to wonder how frequently they add more sample essays, which would be helpful to know if a student were deciding which option to go with.
Discounts
The company offers a first-time discount of 15%, which is on par with the industry average. They also offer discounts based on the total number of pages the customer orders throughout the lifetime of their account. For instance, customers whose total number of orders exceeds 15 pages receives a 5% discount. Once this total reaches 30 pages, the discount increases to 10%. After they have ordered 50 pages, they receive 15% off from here on out. This is a much more generous discount program compared to several other websites that we have reviewed. For instance, with other companies students have to wait until they have ordered 90 or even 100 pages before they quality for the 15% discount.
Quality
To test out the quality of the company's essays, we ordered a couple of papers. The first was a comparative literature essay in which the writer was asked to critique two types of Southern Gothic works. This was a pretty complex undertaking, so we were pleased that the paper turned out as well as it did. In fact, of all the reviews we have done, it might have been the best paper we have gotten so far. It was original work, contained no grammar mistakes, was properly formatted, and well structured.
Customer Support
According to the website, the customer support team works 24/7. We decided to test out both their availability and their professionalism. To achieve the former, we contacted them via live chat and email at various times of the day. We received prompt responses in all cases. We also called them toll-free by phone. The agents that we spoke to were friendly and knowledgeable. We asked them a question about their money back guarantee and they were very transparent about it. In essence, they said there was a process that needed to be followed, but that when complaints about a paper are well founded, a refund is always granted.
Usability
The website will not win any awards for flashiness, but it gets the job done and that is what ultimately matters. We found the website easy to navigate, which is more than what we can say about a lot of other companies that we have reviewed. Almost all of the features and services that ManyEssays.com provides are explained. We also liked that they have a blog that provides customers with useful information. The only odd exception in terms of their features was the inability to see their discount policy unless we clicked on the pricing policy first.
Guarantees
Money back
Free of plagiarism
100% privacy
Payment protection
Free revision policy with a window of 48 hours
Full ownership
Features
Customer support 24/7
A wide range of services
A database containing more than 188,000 essays
The ability to work on a variety of topics
Free plagiarism report by request
Direct communication with writer via an account messaging system
Conclusion
Of all the companies that we have reviewed so far, ManyEssays.com is pretty much as good as any. Their prices are reasonable, the writer that we were given was definitely qualified, and the customer support team did not disappoint. We also think the addition of the free blogs is nice. They allow access to them even if the student decides not to order a paper, which goes to show that the company is not simply in it for the money.
29

Prices star star star star star_half

Discounts star star star star star_half

Delivery star star star star star_half

Support star star star star star_half

Usability star star star star star_half

"I'm really satisfied by the work overall. They are very fast and professional"

Prices star star star star star

Discounts star star star star star

Delivery star star star star star

Support star star star star star

Usability star star star star star

Prices star star star star star

Discounts star star star star star

Delivery star star star star star

Support star star star star star

Usability star star star star star

"five A's so nice mmm. awesome service so far"

Prices star star star star star

Discounts star star star star star

Delivery star star star star star

Support star star star star star

Usability star star star star star

TAG Roman_Belick_want_to_bowling

"Too much time for video games is bad for learning. Fortunately, there are services such as Many Essays!!!"

Prices star star star star star

Discounts star star star star star

Delivery star star star star star

Support star star star star star

Usability star star star star star

"It was an exceptional experience with Many Essays. Excellent source of material on their blogs, good and kind people and quality prices."

Prices star star star star star

Discounts star star star star star

Delivery star star star star star

Support star star star star star

Usability star star star star star