EssayServices.org Review
Overall rating: star star star star_border star_border (6 / 10)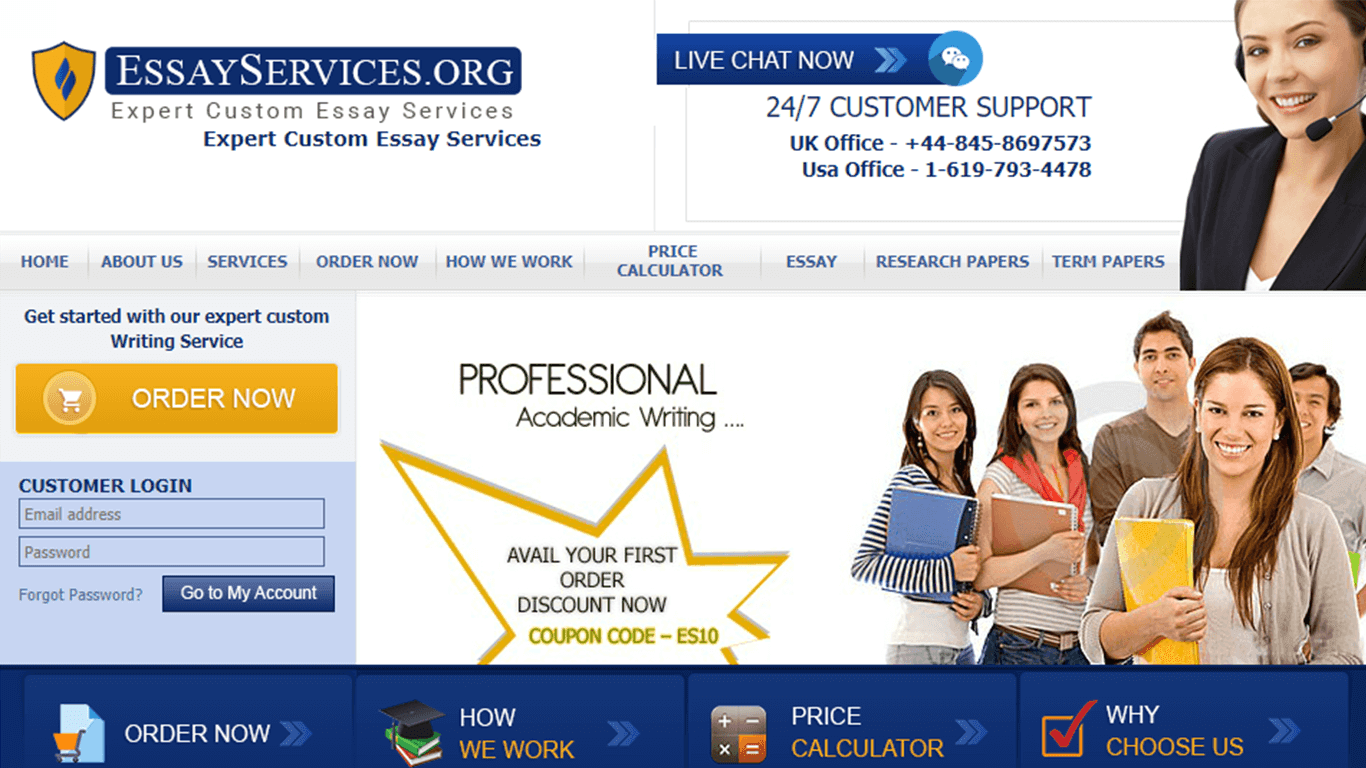 Price starts from:
$16.76
Minimum Deadline (hours):
24
Service Features
Paper Type
check Essay
check Research Paper
check Dissertation
check Article Writing/Review
check Book Review/Report
check Discussion Board Post
clear Business Report
Customer Support
check 24/7
check Toll-Free
check Online Chat
check English Support
clear Call Back
check E-mail
clear Skype
Free Items
check Title page
clear Paper outline
check Bibliography
check Styling and formatting
clear Written samples
clear Plagiarism report
check Revision
General Info
When you are a busy college student, seeking the services of a custom writing service is one of the best investments you can make. But only if you choose the right one. Our website is dedicated to helping you make the right decision so that you can thrive academically.
For this review, we took a look at EssayServices.org. When we entered the homepage, we noticed that they refer to themselves as "The Paradise of Excellence." This sounds a bit over the top, but if they are able to produce high quality writing that gets students top grades, they can be forgiven. They have a page that is dedicated to describing their services. For instance, they can help students with their essays, term papers, research proposals, case study assignments, movie reviews, and even admissions essays. If in doubt, we would recommend that you contact their customer support team to find out if they offer the services you need. We found their list of academic levels to be confusing. For instance, "undergraduate" and "bachelor" is the exact same thing, and yet they list them as separate levels. In addition, if they offer assistance to master's and PhD students, they do not indicate this since the other two levels are "professional" and "admissions."
Prices
EssayServices.org has a very confusing pricing policy. For instance, we actually could not find a price table, although they do have a price calculator that gives you an estimate. But even that is not very accurate. If you have a paper with a very tight deadline, expect to pay double or more. You also have to pay additional if you want your paper to be edited and proofread. And yet their writers are supposedly so talented that edited and proofreading is unnecessary, evidently. Much like every other company, their prices depend on such factors as the academic level, type of order, the deadline, the level of quality of the writer, and the length of the assignment. Prices start at $16.76/per page for their lowest level of writing, which is several dollars higher than the industry average. Frankly, if their goal is to be as accessible as possible, they are not doing a very good job.
Discounts
EssayServices.org has a discount policy that is pretty generous, although it differs greatly from the way most other companies do it. For instance, they do not have a loyalty discount program. On the other hand, if you buy individual orders in bulk, you can save anywhere between 5% and 20%. They do provide a discount to first time customers as well in the form of a code that you can find on their homepage.

Quality
We ordered a college-level paper on the subject of psychology. It needed to be 5 pages long with a 7-day deadline. Our writer was clearly not a native English speaker since we found several awkward phrases and word choices that were consistent with somebody who is ESL. That said, it was not a complete disaster. But if you are not willing to pay for their expensive proofreading option, make sure to take the time to proofread it yourself.
Customer Support
The customer support team is available around the clock and can be reached via live chat, phone, or email. We found that their live chat operators are a bit slow at responding. It took us around 15 minutes for them to reply, and that happened on more than one occasion. Perhaps they are busy dealing with a lot of customers, in which case we cannot really fault them. The customer support team was friendly and polite, but some of their policies are questionable. For instance, we asked if customers automatically receive a full refund if the paper is delivered past the deadline. The agent we spoke to stated that the determination is made on a case-by-case basis, which seems a bit sketchy to us.
Usability
The EssayServices.org website is as basic as it gets. In fact, it appears as though they have not updated it in two decades. In addition, the font size is way too small. You basically have to use your web browser's zoom-in features just to make out the letters. However, we do like the fact that it is easy to locate the links to all of the important information about the company, including its pricing policy and their process.
Feedback
We looked at feedback and reviews from third-party websites and it is kind of a mixed bag. There are plenty of customers that appear satisfied with their papers, but we also found many complaints, especially on the issue of poor grammar and odd word choices.
Conclusion
If you want a high quality paper at a reasonable price, EssayServices.org is probably not the company for you. Their prices are way too much for the average student and they simply do not deliver papers that reflect these high costs. We can definitely confirm that they are not a scam company and that you will receive your paper by the deadline. But if your standards are high, we would suggest that you shop around at other custom writing websites.

4

"Very disappointed, waste of time and money."

Prices star star_half star_border star_border star_border

Discounts star_half star_border star_border star_border star_border

Delivery star star_border star_border star_border star_border

Support star star star_border star_border star_border

Usability star star_half star_border star_border star_border

"Overall, a good experience. Just a little bit of editing error."

Prices star star star star star_border

Discounts star star star_border star_border star_border

Delivery star star star star_half star_border

Support star star star star_half star_border

Usability star star star star star_border

"I got no message that my original order had been confirmed and when I asked for updates I got vague answers like "your order will be completed before the deadline". Those words made me worry. Well, it happened as I suspected. My paper was 5 hours lat..."

Prices star star_half star_border star_border star_border

Discounts star star star_border star_border star_border

Delivery star star_border star_border star_border star_border

Support star star_border star_border star_border star_border

Usability star star star star_half star_border

"I do not recommend this company. Their website says full refund is provided if you are unsatisfied; HOWEVER, that IS NOT the case. When talking and chatting to staff, it seemed like no one read my complaint."

Prices star star star_border star_border star_border

Discounts star star_half star_border star_border star_border

Delivery star star_border star_border star_border star_border

Support star star_border star_border star_border star_border

Usability star star star star_border star_border