EssayBasics.com Review
Overall rating: star star star_half star_border star_border (5 / 10)
Price starts from:
$12.95
Minimum Deadline (hours):
1
Service Features
Paper Type
check Essay
check Research Paper
check Dissertation
check Article Writing/Review
check Book Review/Report
clear Discussion Board Post
clear Business Report
Customer Support
check 24/7
check Toll-Free
check Online Chat
check English Support
clear Call Back
check E-mail
clear Skype
Free Items
check Title page
clear Paper outline
check Bibliography
check Styling and formatting
check Written samples
clear Plagiarism report
check Revision
General Info
When students are looking for an expert to write their custom academic papers, there are plenty of websites to choose from, but it is important to pick the right one. Does EssayBasics.com have what it takes to keep customers happy? That is what we intended to find out. Right off the bat, our first impression is that the name of the website seems to live up to its moniker. In other words, it only seems to provide the basics and nothing more. Anybody who is looking for a list of services will be disappointed. We certainly could not find it on their website. Of course, the real test will be whether they deliver on their promises, as limited as their scope seems to be.
Prices
EssayBasics.com does not have a page dedicated to pricing, although if you browse around you will come across one, even if by accident. Prices start at $12.93/page for an undergraduate paper with a 10-day deadline. While most companies offer a fairly logical pricing scheme (i.e., $12.99, $15.99…) the price list at EssayBasics.com is weird and random. $23.46? $27.12? Another problem is that one page only consists of 275 words. Given that most professors assign papers with a minimum of 300 words, this would seem to indicate that customers need to pay for 2 pages even if they really only need those additional 25 words. In other words, the relatively affordable $12.93 becomes nearly $26.
They do have a convenient currency conversation option that allows customers to pay in US Dollars, British Pounds, Euros, Australian Dollars and Canadian Dollars. This is a plus if you are a Canadian customer since we have yet to come across another company that allows purchases to be made in your currency.
They offer VIP support for an additional $9.95, although it is never properly explained what this entails. Disappointing. Also, for $2.95/page you can have the paper proofread, but it is our belief that this should be a free feature that comes as part of the package.
Discounts
EssayBasics.com offers first-time customers the standard 15% discount that is consistent with what most other custom writing companies provide. However, their discount program for loyal customers is not clear at all. For example, it states customers receive a lifetime 15% discount after 10 completed orders. Does that mean they qualify for the discount if those 10 orders were all one-page each? It is never properly explained even though it is a very important detail. The one bright note is that they provide customers with a 20% discount if they successfully convince a friend to order a paper. By comparison, most other companies only offer 15%.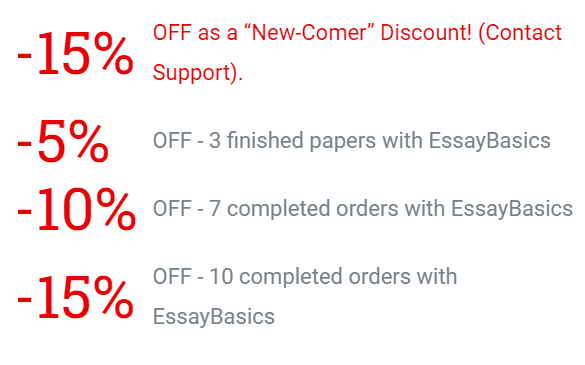 Quality
As with all of the companies that we review, we order the same types of papers with the same instructions in order to make comparisons. Thus, we requested a 2-page paper with a 3-hour deadline in order to test their ability to deliver on time. We also ordered a 10-page master's level paper with 8 required sources in MLA format to see if they would follow our directions. The papers were delivered by the deadline, but the content was pretty mediocre. Not worth the money.
Customer Support
The customer support team can be contacted 24/7 via Live Chat, email or toll-free by phone. We found the agents to be polite and friendly, but a bit deceptive. When we asked where they were located, they said Seattle. But it was obvious from their accents that they were located somewhere in Eastern Europe. This is not a criticism of their services, but it would have been nice if they had just leveled with us. Most other companies are perfectly transparent about the fact that they outsource their call center to places like Latvia and Ukraine.
Usability
The website is not particularly user friendly. There are no links to their pricing policy, discounts or even their services. In order to connect with their support team, you need to use your email account, which is another inconvenience, especially if you want to remain anonymous. The homepage also contains a lot of unnecessary, rambling information. The only positive is that they offer writing guides and free samples.
Guarantees
Plagiarism-free work
Free revisions
Privacy policy
Money back policy

Features
24/7 Customer Support
Discount program
Writing Guide
Conclusion
Overall, our experience with EssayBasics.com was a big disappointment. We did not care much for the website, the discount policy and indeed the entire pricing system is nonsensical, and it appears that their 275 words per page scheme is just meant to squeeze out more money from their customers. In the end, the papers were pretty much as basic as the website's name. The customer support team were professional and knowledgeable, but it is not enough to save the company from a bad review. Unfortunately, we would not recommend this service to others.
7

Prices star star star star_border star_border

Discounts star star star star_border star_border

Delivery star star star star_border star_border

Support star star star star_border star_border

Usability star star star star_border star_border

"I'm liked this service, but where are discounts?"

Prices star_half star_border star_border star_border star_border

Discounts star_half star_border star_border star_border star_border

Delivery star star star star star_border

Support star star star star_border star_border

Usability star star star star star_border

"If u want good grades and good quality — don't waste your time here!"

Prices star_half star_border star_border star_border star_border

Discounts star_half star_border star_border star_border star_border

Delivery star_half star_border star_border star_border star_border

Support star_half star_border star_border star_border star_border

Usability star_half star_border star_border star_border star_border

Prices star_half star_border star_border star_border star_border

Discounts star_half star_border star_border star_border star_border

Delivery star_half star_border star_border star_border star_border

Support star_half star_border star_border star_border star_border

Usability star_half star_border star_border star_border star_border

"If you do care about your reputation avoid using this agency."

Prices star star star_border star_border star_border

Discounts star star star_half star_border star_border

Delivery star star star star_half star_border

Support star star_border star_border star_border star_border

Usability star star star star_border star_border

"Do you know what I think? I think they should better train both their writers and customer support before allowing them to cooperate with customers."

Prices star star star star_border star_border

Discounts star star star star_half star_border

Delivery star star star star_half star_border

Support star star_half star_border star_border star_border

Usability star star star star_border star_border