Essay-Company.com Review
Overall rating: star star star_border star_border star_border (4.2 / 10)
Minimum Deadline (hours):
3
Service Features
Paper Type
check Essay
check Research Paper
check Dissertation
check Article Writing/Review
check Book Review/Report
clear Discussion Board Post
check Business Report
Customer Support
check 24/7
check Toll-Free
check Online Chat
check English Support
clear Call Back
check E-mail
clear Skype
Free Items
check Title page
check Paper outline
check Bibliography
check Styling and formatting
check Written samples
clear Plagiarism report
check Revision
General Info
Being a student in the modern world is not a piece of cake. Studies cause stress, the amount of homework only gets bigger, and the assignments that must be completed are not compatible with regular sleep. When you are a student, it seems that a day has less than 24 hours. Custom paper writing services is a relatively new niche on the market. It was created to help busy students cope with the workload more easily.
One of the companies that provide such services is Essay Company.com. They can find a professional writer who will complete your paper for a price. In general, all companies follow a similar scheme, but the quality of services they offer differs greatly. Let us analyze the services of Essay Company.com to see if the company can be trusted.
Surprisingly, we could not find a services page on the website of the company. Instead, we had to use the order form on the website to see if the services we wanted were available. The order form has a drop-down menu that lists around 30 services a client might be interested in. These were the basic services a student needs. However, some other companies offer more than 50 services, which means that there might be a need to find another agency if a client needs a niche service. In a nutshell, the company provides writing, editing, and proofreading services. All academic levels are available.
Prices
The price depends on the type of the order, the academic level, urgency, and length of the paper. Prices start at $13.60. You can pay in USD and some other currencies, namely, CNY, EUR, CAD, GBP, and AUD. We ordered an urgent (6 hours) double-spaced essay and it cost us $144,29. There is a convenient price calculator on the website, so you can check the price yourself. However, the information we received did not match. First, they said this was the price for 300 words, and then they said it was for 275 words. How can you trust a company is there is confusion already at the initial stage?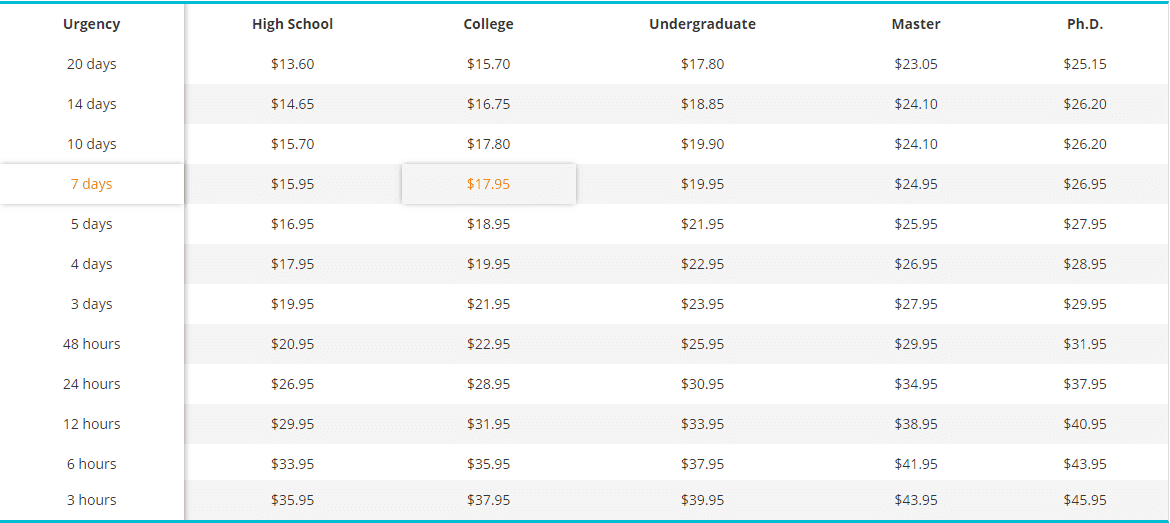 Discounts
This is interesting. There is a page called "Prices and Discounts", but there was no information about discounts on it. Maybe they have some discounts, but the only one we learned about was the first-order discount, which was calculated automatically. So, we received 15% off the price.
Quality
Having checked the prices they set (and they are far from being low), we expected stellar quality from their writers. We have some experience of using such services and we know that it is impossible to get an impressive paper at a ridiculously cheap price. However, the paper we received form Essay Company.com disappointed us because the writer did not meet our expectations. First, the essay was filled with grammar and punctuation mistakes. Second, some passages were simply off topic. Third, we had a feeling that the writer was not a native English speaker. In addition, the writer clearly lacked subject matter knowledge, so the paper turned out to be rather superficial. We decided to conduct an additional check of the website and we were shocked by what we found. SimilarWeb showed that most traffic on the website comes from India, and this means that the majority of their customers are from there. It would be fair to conclude that their 'native' English speakers come from India, as well. Of course, Indian customers do not need their papers to be written by native English speakers, but US students do!
Customer Support
On their website, they claim that the customer support is reachable 24/7 and you can contact them by live chat or a toll free phone number. We checked that, as well. Yes, they are easy to reach because we got a response immediately. However, we were not impressed with the quality of the support they provide. Since we did not find the information about discounts on the website, we asked the agent about them. The agent did not reply so fast this time and gave us unspecific answer. He just told us that we would receive our discount automatically since we were 'first-time' customers. We had to contact them again, this time, to request a revision. The agent seemed rude. When we said we wanted our money back, they simply stopped replying to us.
Usability
The home page is overloaded with useless information. We had to look through a lot of mess before we found what we wanted. So the usability can be described in one word – awful! In addition, there was yet another discrepancy between the info on the website and what they really offered. The footer on their website says they were registered in 2006, but whois.net shows that their domain was registered in 2013. How can there be so many lies on a single website?
Guarantees
Similar to other companies, they guarantee high-quality papers, customer satisfaction, and money back. It is true that the paper was revised but it was poorly written even after revision. We asked our money back and they just did not reply to us! They also guarantee total confidentiality, but we are not sure they can be trusted…

Feedback
The feedback on their website is all positive. But you know what? You cannot leave feedback on their website! So where do all positive comments come from then? If you want to know what people really think, go to sitejabber.com.
Advantages
Round-the-clock customer support. That is it.
Conclusion
Here is the verdict: Essay Company.com is an unreliable custom paper writing company. Their website is not user friendly. The papers you get form Essay Company.com are not worth their price. The company lies too much.
The question was whether Essay Company.com was a fraud. Given the quality issues, they do have an intention to deceive clients. What we received was a combination of poor writing services and unsatisfactory customer support. Taking all this into consideration, we do not recommend Essay Company.com to students.
Be careful and try to steer clear of their website. If you need a reliable custom paper writing agency, check out our reviews. We have tried a dozen of companies and there are some really good ones among them.
8

Prices star star star star star

Discounts star star star star star

Delivery star star star star star

Support star star star star star

Usability star star star star star

"They missed my deadline, good job!"

Prices star_half star_border star_border star_border star_border

Discounts star_half star_border star_border star_border star_border

Delivery star_half star_border star_border star_border star_border

Support star_half star_border star_border star_border star_border

Usability star_half star_border star_border star_border star_border

Prices star star_border star_border star_border star_border

Discounts star star_border star_border star_border star_border

Delivery star star_border star_border star_border star_border

Support star star_border star_border star_border star_border

Usability star star_border star_border star_border star_border

"Papers are terrible, plagiarism over 60%. This sounds lika bad joke... DO NOT ASK THEM ANYTHING!!"

Prices star star_border star_border star_border star_border

Discounts star star_border star_border star_border star_border

Delivery star star_border star_border star_border star_border

Support star star_border star_border star_border star_border

Usability star star_border star_border star_border star_border

"Cheap and bad, don't waste your time and money!"

Prices star_half star_border star_border star_border star_border

Discounts star_half star_border star_border star_border star_border

Delivery star_half star_border star_border star_border star_border

Support star_half star_border star_border star_border star_border

Usability star_half star_border star_border star_border star_border

"Guys, I just wanted to warn you: they just don't know how to produce a decent paper. I talked to their support agent. He had a remarkable accent. Their level of English is not higher than a high school student."

Prices star star star star_border star_border

Discounts star star star_border star_border star_border

Delivery star star_border star_border star_border star_border

Support star star star_border star_border star_border

Usability star star star star_border star_border