Bestessays.com Review
Overall rating: star star star star star_border (7.7 / 10)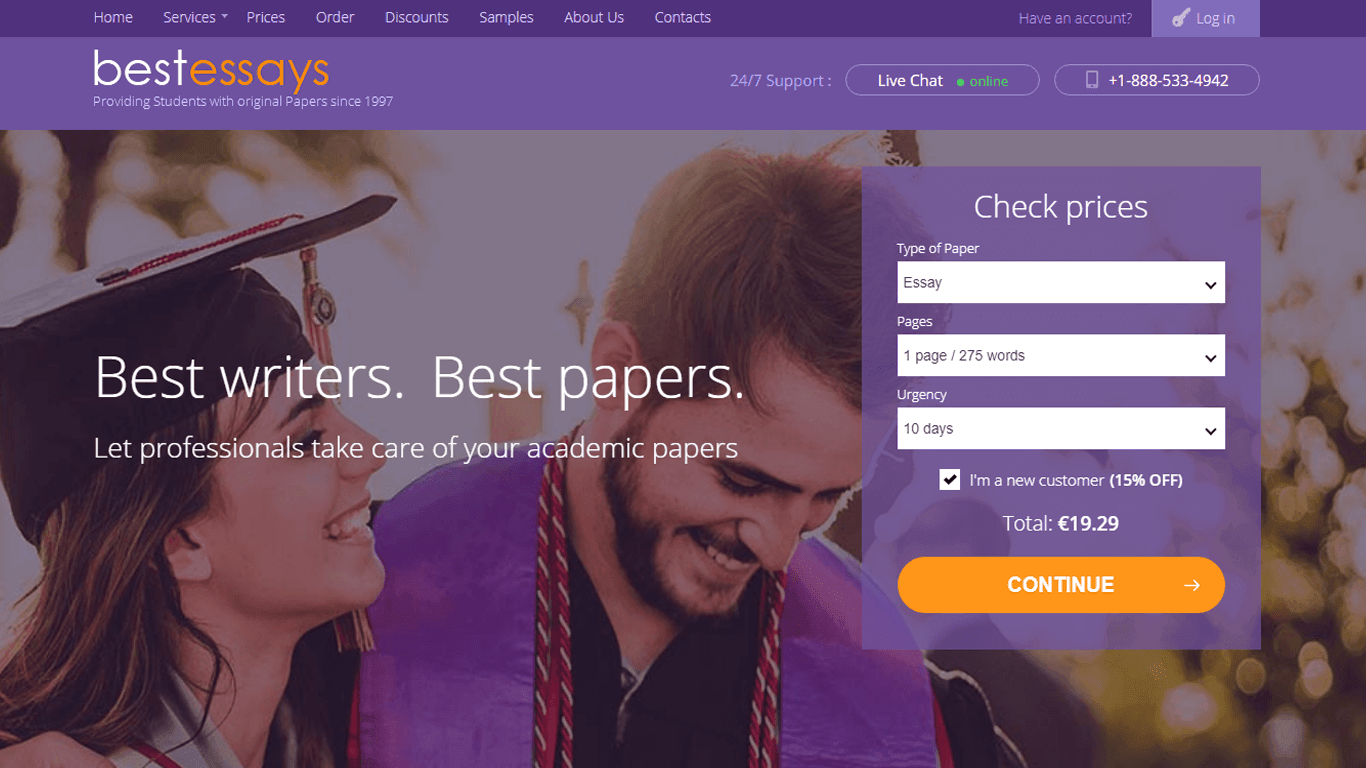 Price starts from:
$21.99
Minimum Deadline (hours):
3
Service Features
Paper Type
check Essay
check Research Paper
check Dissertation
check Article Writing/Review
check Book Review/Report
clear Discussion Board Post
clear Business Report
Customer Support
check 24/7
check Toll-Free
check Online Chat
check English Support
clear Call Back
check E-mail
clear Skype
Free Items
check Title page
check Paper outline
check Bibliography
check Styling and formatting
check Written samples
clear Plagiarism report
check Revision
General Info
With so many custom writing companies out there, it can be difficult to determine which ones are legitimate and which ones are only out there to scam customers. For this review article we are taking a look at Bestessays.com. According to the website, they offer several types of services including standard essays, master's and PhD-level writing, editing, proofreading, resumes, and cover/motivation letters. Although they are called Bestessays.com, their services extend beyond this. For instance, the company states that they are able to take online-based multiple-choice tests. As we have done with our other reviews, we took a look at the company's pricing policy, discounts, quality of their work, competencies of their customer support team, and usability of their website to determine how they stack up.
Prices
The first thing that stuck out is that compared to the industry average, the prices of the papers are very steep. For instance, the lowest price will set you back $21.99. By comparison, most other companies offer their custom writing services within the $12.99 - $14.99 range. Yikes. When we wrote their customer support team to ask why their prices were so much higher, they explained that they tend to cater to graduate-level students who need help with complex assignments. Fair enough. What is the most important is to determine whether the costs are justified by looking at the quality of their work.
Most companies categorize the levels based on academic standing (i.e., high school, college, university, master's PhD). By contrast, Bestessays.com uses three categories of Standard, Premium and Platinum Quality. We found this to be sort of ambiguous and a vague answer of "premium is better than standard but not as good as platinum" does not suffice.
On the bright side, customers have the option to pay in US Dollars, British Pounds, Australian Dollars and Euros. A lot of other companies only seem to allow purchases to be made in US dollars, so this is pretty convenient since it avoids things like currency conversion fees.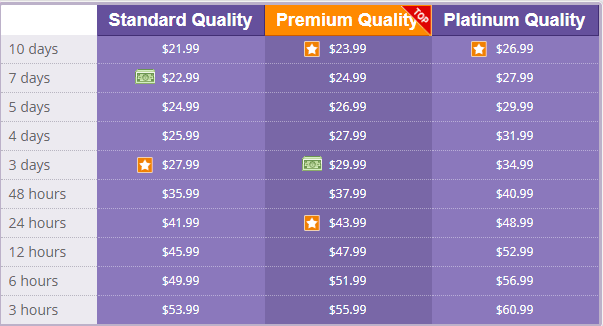 They also offer a few free features including:
An Outline (by request)
An appendix page
Title Page
Table of Contents
Reference List
Formatting
Discounts
Bestessays.com provides a 15% discount on all first-time orders, which gives customers some relief from the relatively high prices. They also have a discount program that is based on how many total pages the customer orders during the lifetime of their account. For instance, a 5% discount applies once the student reaches 15 pages. It increases to 10% after 50 pages and then 15% after 100. By comparison, many other companies provide a 15% discount after 50 pages, so if a customer is looking for a real deal, this might not necessarily be the company for them.
Quality
As with every review, we tested out Bestessays.com's orders based on the timely of their delivery, the ability to follow our directions, plagiarism, grammar, and proper structure of the paper. We ordered two papers (a short essay with a 3-hour deadline and another that was 5 days, but very complex and contained a lot of instructions. We were very impressed with what we received. The first paper arrived by the deadline as promised. The complex paper was very professional. It contained in-depth research and used relevant sources. The papers were also formatted based on our requests (Harvard and Chicago, respectively). Another good sign is that the papers were free of plagiarism. If a student receives plagiarized work from a company, that alone should be a deal breaker. But we are able to report that everything about our papers seemed legit.
Customer Support
The customer support team is available 24/7 according to their website. We tested out their response time (contacting them at different times of the day), their knowledge, and professionalism. When we wrote them on Live Chat, it took about 15 minutes to get a response. But once they did, they apologized for the inconvenience and stated that it was a particularly busy workday. We certainly cannot knock them for that. The agents we spoke to were always friendly, knowledgeable and were easy to understand.
Usability
The website is easy to navigate. It is easy to find links to all of the services and other features. All of the information is clear - such as the ordering process, discount options, etc.
Guarantees
Strict Identity Protection Policy
Timely Delivery
Work that Follows Instructions
Proper Formatting
Features
Discount Program
Free title page, reference page, and revisions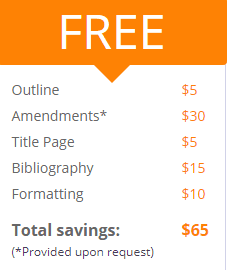 Conclusion
Although it is one of the most expensive services in the custom writing industry, they certain do deliver on their promises. The customer support team was professional, we got our papers by the deadlines, and we liked the user-friendly website. All in all, a highly dependable company to purchase custom writing from if you can afford the extra cost.

7

Prices star star star star_border star_border

Discounts star star star star_border star_border

Delivery star star star star_border star_border

Support star star star star_border star_border

Usability star star star star_border star_border

"They managed to do it on time, BUT. Are all this services this bad at writing?"

Prices star star star star_border star_border

Discounts star star star star_border star_border

Delivery star star star star_border star_border

Support star star star star_border star_border

Usability star star star star_border star_border

"Good service, but prices are s***..."

Prices star star star_border star_border star_border

Discounts star star star star star

Delivery star star star star star

Support star star star star star

Usability star star star star star

"They have failed on my last papers, previously all were good, but something wrong was happened... waste of time, waste of money, I might need searching for new services."

Prices star star star_half star_border star_border

Discounts star star star star star_border

Delivery star star star star_half star_border

Support star star star star star_half

Usability star star star star star_border

Prices star star star star_border star_border

Discounts star star star star star_border

Delivery star star star star star_border

Support star star star star star_border

Usability star star star star star_border

"Though the price was a bit high at least there was no need to order any extra services as editing or proofreading. It was obvious I got a decent paper for that amount of money."

Prices star star star_half star_border star_border

Discounts star star star star star_border

Delivery star star star star star_half

Support star star star star star_border

Usability star star star star star_border