AffordablePapers.com Review
Overall rating: star star star star_border star_border (5.8 / 10)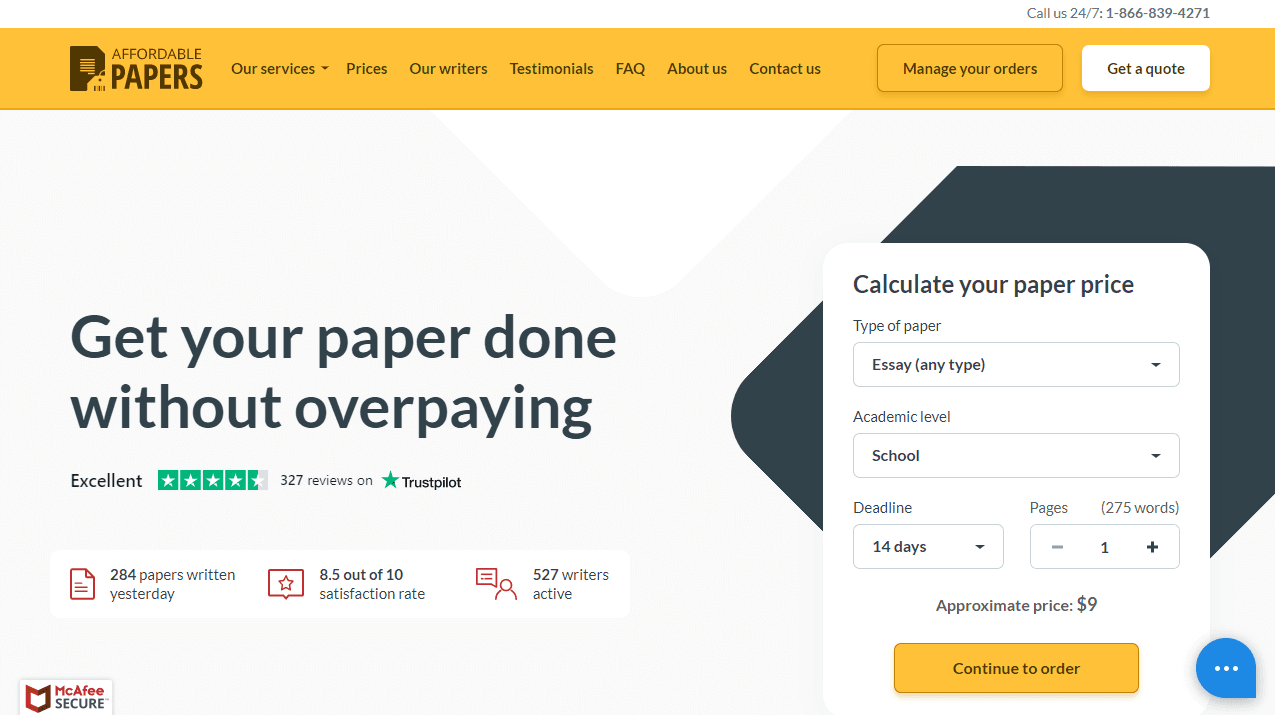 Minimum Deadline (hours):
4
Service Features
Paper Type
check Essay
check Research Paper
check Dissertation
check Article Writing/Review
check Book Review/Report
clear Discussion Board Post
clear Business Report
Customer Support
clear 24/7
check Toll-Free
check Online Chat
check English Support
clear Call Back
check E-mail
clear Skype
Free Items
check Title page
check Paper outline
check Bibliography
check Styling and formatting
check Written samples
clear Plagiarism report
check Revision
General Info
If you are a student who is looking for a custom writing service, you have probably noticed that they are not difficult to locate. In fact, the industry is really booming. But how are you supposed to figure out which ones are truly trustworthy? Given that your academic success is on the line, you should not take any risks. Our website is dedicated to helping you find writing services that are dedicated to helping you out.
Does AffordablePapers.com pass muster? Our review can give you a clearer picture of this company and answers this question. According to their website, they provide a variety of services for students of any academic level who need help with essays, coursework, term papers, and even dissertation writing. You can also purchase custom PowerPoint presentations.
Prices
If a custom writing company that is geared towards students wants to succeed, they need to make sure their services are accessible. Given that a high school level paper at AffordablePapers.com only costs $9.00, they seem to take this to heart. As with virtually all companies, the price for a paper depends on several factors including the academic level, the type of paper or complexity of the assignment, the deadline, and the number of pages you require.
When you order their services, they provide you with a few freebies, but nothing out of the ordinary:
Title page
Reference page
7 day window to request free revisions
They also include a few add-ons for a price, such as:
Writer's samples
Progressive delivery
Papers completed overnight
Copies of the sources used in the paper
Discounts
We could not find any discounts either for first-time customers or repeat clients. They also do not seem to provide any promos during holidays. In most cases, we would be critical, but given how low their prices are to begin with, it is probably unreasonable to expect them to knock a couple more dollars off the listed price.
Quality
The quality of the paper is what matters most to the readers. We ordered a college-level paper on the topic of Brexit and what it will mean for the future of the EU. It was meant to be 8 pages long (double-spaced) with a 10-day deadline. We asked for at least 7 reputable sources and APA formatting. We got the paper by the deadline, but that is the only positive thing we have to say. For being a supposed expert, the writer had almost no grasp on the topic! They essentially copied and pasted Wikipedia and a few articles. We have no idea how they thought they could do that without us noticing! An absolutely shameful job. We asked for a refund.
Customer Support
On the homepage, it says the customer support team can be contacted 24/7, and yet when you look at their "Contact Us" page, you discover that it is not true at all! They close their offices on Saturdays at 1pm (UTC) and do not open again until midnight on Monday. Another unfortunate thing is that if you live outside of the US or UK and hope to call them during working hours, you will be charged international fees.
Usability
If there is one silver lining, it is that AffordablePapers.com has a decent website. We like the design and the fact that it is user-friendly. The menu bar at the top of the website provides you with links to all of the important information.
Guarantees
AffordablePapers.com provides the following guarantees:
Plagiarism free papers
Money back policy
Papers delivered by the deadline
Oddly enough, they "guarantee" 24/7 customer support when this obviously cannot be true if their offices close on Saturday afternoon and all of Sunday.
Conclusion
Based on our experiences, there is no way we can recommend AffordablePapers.com. Our writer would not be able to do their job if their life depended on it! Have you ever ordered from this company? Let us know what you thought about it in the comments below.
3

"They turned out to be not very supportive when I required a refund. The writer didn't get the task at all. What he wrote had nothing to do with the given topic."

Prices star star star_half star_border star_border

Discounts star star star_half star_border star_border

Delivery star star star_border star_border star_border

Support star star_border star_border star_border star_border

Usability star star star_half star_border star_border

"I just finally convinced myself that a low price doesn't always mean decent quality."

Prices star star_half star_border star_border star_border

Discounts star star star_border star_border star_border

Delivery star star star_half star_border star_border

Support star star star_border star_border star_border

Usability star star star_half star_border star_border

"I cannot afford papers of so low quality. no matter how cheap their service, it doesn't worth your money."

Prices star star star_half star_border star_border

Discounts star star star_border star_border star_border

Delivery star star star star_border star_border

Support star star_half star_border star_border star_border

Usability star star star_half star_border star_border